As earlier reported, Chinese Outbound Direct Investments (ODI) rose yet again in 2014 to a new record in terms of deal value. A recent study from PwC shows that not only did the outbound M&A deal value rise last year, more importantly, the number of deals rose significantly in 2014, showing that the trend of overseas M&A expansion of Chinese entities is becoming more broadly based.
According to a recent analysis by the global consulting firm PwC, the number of Chinese outbound M&A deals rose to 272 in 2014 from just 200 in 2013. At the same time, the value of those deals only rose to USD 56.9 bln from USD 51.9 bln. Thus more smaller deals compared to the year before.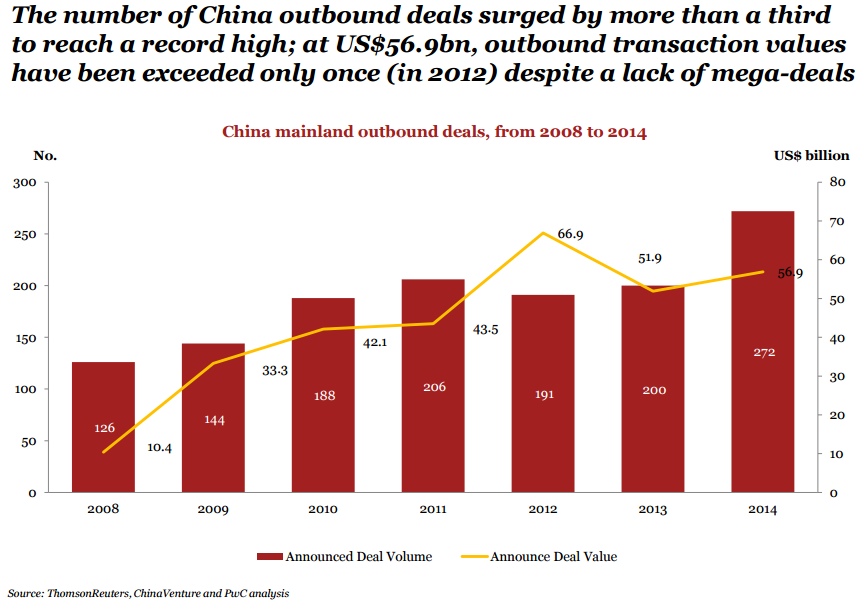 On a more detailed level, 145, or 53% of the total number of deals, were done by Private Owned Enterprises (POE's). The POE's deal sizes are on average much smaller compared with the deals done by State Owned Enterprises (SOE's) and Financial Buyers (PE's).
Interestingly, but not very surprising, POE's are remarkably more active in making "Consumer Related" and "High Technology" deals compared to SOE's, which are more active within "Industrials" and "Energy & Power".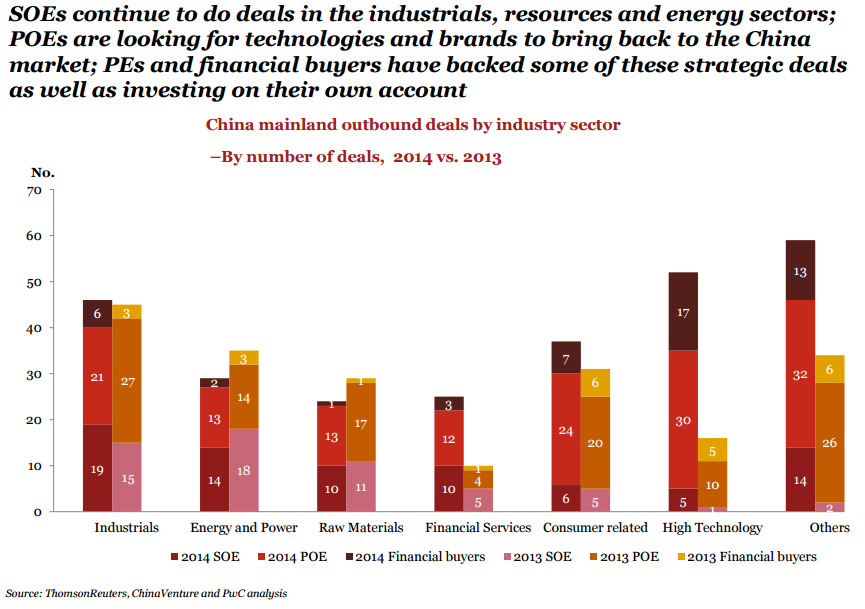 Finaly, PwC has compiled a geographical overview of the Chinese M&A deals in 2014 and 2013, which shows that especially the U.S. and Europe is favoured, while the Chinese companies in 2014 also looked to other parts of Asia to find assets.
**According to PwC, Thomson Reuters and ChinaVenture records announced deals. Some deals will not go on to complete. The deal volume figures presented by PwC refer to the number of deals announced, whether or not a value is disclosed for the deal. The deal value figures presented in this report refers only to those deals where a value has been disclosed.